AI-enabled drawing
management software
10x your procurement team with Drawer
Request demo
What is Drawer
CADDi DRAWER is a cutting-edge cloud solution that helps you make the most of your drawing data. We use a proprietary image analysis algorithm to analyze images, making it possible to search and find similar drawings easily, streamlining your processes to save you money in design, procurement, and production.
CADDi DRAWER accelerates your business's digital transformation by placing a high priority on drawing data, the most critical data in the manufacturing industry.
Are pain point examples like these impacting your business?
Wasted time searching for drawings

When your drawing and order history data is disorganized, you lose time searching for drawings.

Significantly varying costs

Even though the drawings appear similar, cost discrepancies can arise due to factors such as the timing of the orders and the number of parties involved.

Inability to standardize parts

In situations where you cannot locate previous similar drawings, you might create new ones resulting in inconsistencies within your parts line.
With CADDi DRAWER
Quickly search and reference drawings

Easily search and reference drawings and associated data in the most efficient way.

Reduce search time for drawings by 80% when DRAWER analyzes and digitizes your drawings.

Reduce material and process costs referencing similar drawings

Referencing previous drawings and order data, you can eliminate fluctuations in order prices, leading to cost reductions.

Reduce your overall procurement costs by 30% by leveraging data during the ordering process.
Features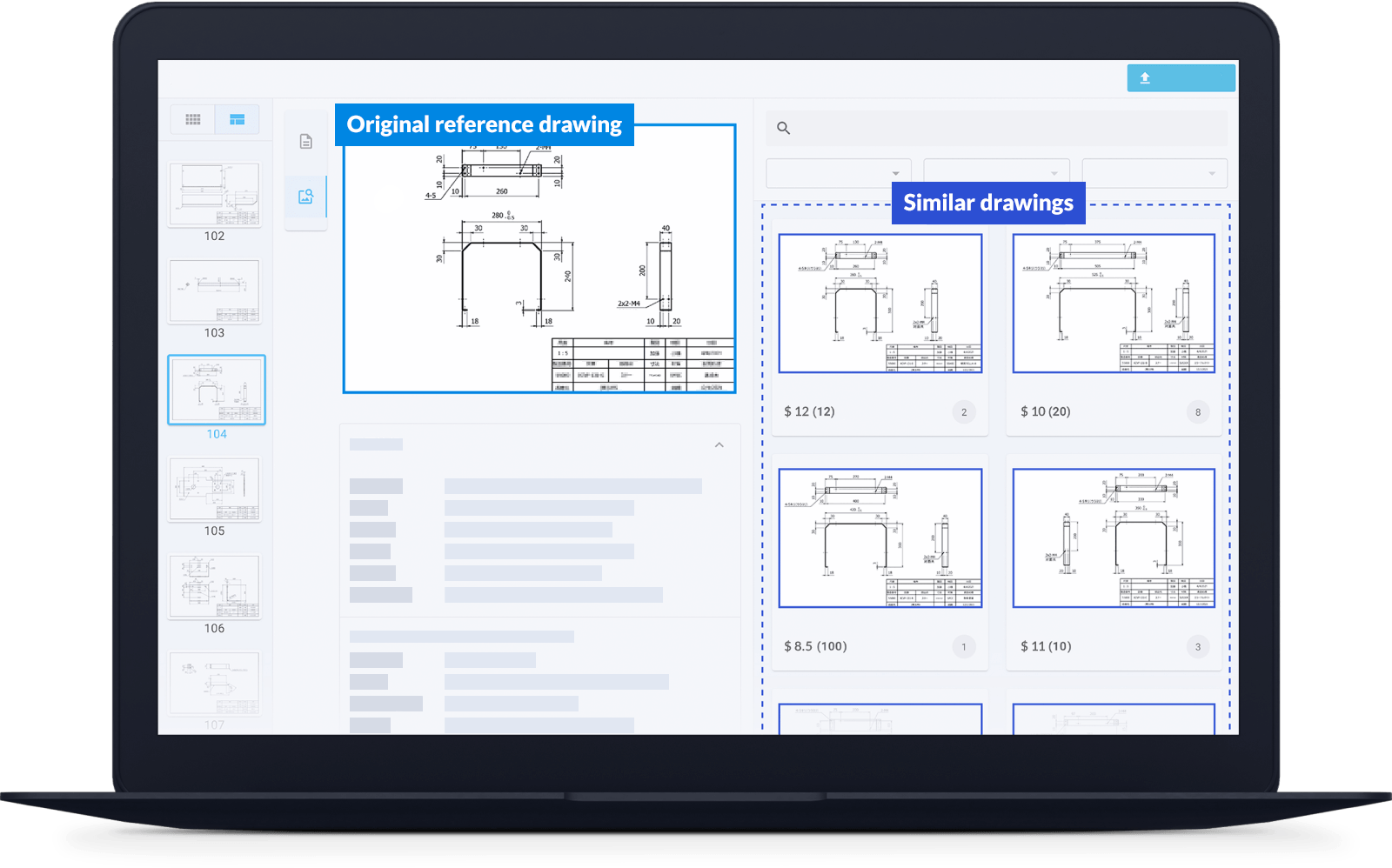 Similar Drawing Search
Utilizing advanced image analysis algorithms, searching drawings for similar parts is possible.
Based on overall characteristics, It can detects and displays drawings with similar shapes.
Automatic Drawing Analysis

Shape Analysis

Text Analysis

Digitizes text information (such as part names, materials, suppliers, etc.) within registered drawings, which then become searchable.
Extracted text information can be exported as an Excel file.

Automatically links purchase order history and associated information

By performing a bulk registration of order history data in formats like CSV, it becomes possible to automatically link the data with drawings using attribute values as keys. This makes it easy to reference drawings, along with their associated order prices and supplier information.
Benefits
Design

Streamline your design processes and enhance operational efficiency by referencing and standardizing your operations by searching for similar drawings.

Procurement

Streamline your ordering process by searching for similar drawings. Reduce tedious tasks and make it easy for anyone on your staff to make orders.

Production

Easily find drawings no matter how long ago they were made preventing manufacturing issues.
We offer end-to-end support for product implementation to utilization
Product Support
Implementation

Uploading of drawings and purchase order data

CADDi DRAWER TEAM

Support

We offer end-to-end support from product implementation to establishing internal operations.

Implementation support

Importing past data and handling initial setup on your behalf
Hosting customer internal quality assurance (QA) sessions

Utilization support

Monitoring product usage status.
Suggestions for effective utilization methods.